The Future of High Accuracy Workholding has Arrived: the NEW BR Series of Power Chucks from Kitagawa 
The Kitagawa B200 Series Power Chucks are found on the world's most popular machines tool brands today. Known for their high performance, high accuracy and outstanding longevity, the Kitagawa B200 Series Chucks have been selected by the world's leading machine tool OEMs for over 50 years.
After many years of research, development and testing, Kitagawa introduces their Next Generation design, the new BR Series of Power Chucks. The new flagship line of Power Chucks are designed to achieve the level of popularity, success and acceptance of its predecessor, as it now takes gripping accuracy to a level unprecedented in the metalworking/machining industry.
Many Chuck manufactures claim to achieve "high-accuracy" machining specifications, but do not even measure up to Kitagawa's current B200 Series. The industry standard for repeatability (clamping a workpiece, zero out indicator, unclamp and re-clamp the same workpiece) with a set of formed jaws (where the jaws are turned to match the diameter of the workpiece) was 20 microns. The BR Power Chuck Series has increased this accuracy to below 10 microns. This degree of high accuracy machining can be accomplished now with the BR Series as a standard specification.
.
Taking Gripping Accuracy to 0.01mm T.I.R. or Less After Jaw Forming, the BR Series Power Chuck Redefines the Benchmark for High Performance, High Accuracy Machining
Gripping accuracy of 0.01mm T.I.R. or less immediately after jaw forming
Unprecedented high gripping accuracy of standard chuck is also suitable for finishing machining and operations
The Optional "Tnut-Plus" Eliminates the Need for Jaw Reforming, Saving Machine Shops Thousands of Dollars in Set-up Time and Labor Costs Each Year.
With the use of optional Tnut-Plus. The chuck maintains the gripping accuracy of 0.01mm T.I.R. or less even after removing and attaching jaws.
Assuming 3 setup changes per day, 30 minutes jaw forming per setup change equates to approximately 450 + hours annually
Only for BR12, the gripping accuracy is 0.015mm T.I.R.
A special set of Kitagawa patented T-Nuts called 'Tnut-Plus' allows machine shops to only form a set of soft jaws once with the BR Series Chucks. This eliminates the need to re-bore jaws each time they are removed from the chuck and replaced.  The elimination of jaw re-boring means the BR Plus Chuck saves machine shops a tremendous amount of set-up time and labor costs. Using the example of three jaw changeovers per day, each changeover taking at least 30 minutes, the savings could be a minimum of 1.5hrs a day of machining time. Over a one year period, this equates to approximately 450+ total labor hours saved. This results in many thousands of dollars saved and improved productivity on the shop floor.

Estimated Annual Time Reduction

Kitagawa's BR Series Power Chucks come with a host of other improved features, benefits and specifications. They feature an extra-large through-hole (the same as the BB200 Series) as standard. Reduced jaw lift when clamping, a reduction in grip force loss due to centrifugal force of up to 15% and all new body design that resets the bar for Power Chucks.
The overall appearance of the BR Series is different from other Kitagawa chucks with a rounded bevel on the edge of the chuck and with the highly recognizable Kitagawa 'K' in its branded blue color on the face. Every chuck will include a QR code on the side to allow you to pull all the necessary data about that chuck directly from the chuck.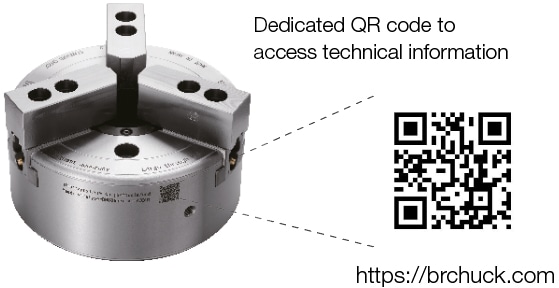 Disassembly of BR chuck
Disassembly procedure of BR chuck
Removal of BR chuck
Removal procedure of BR chuck
Installation of BR chuck
Installation procedure of BR chuck
Watch the Video About Kitagawa's Latest  Workholding Innovation: The BR Series of Power Chucks