Large, Heavy Duty Workholding from 40″ Up to 11.5′ in Diameter
We are proud to announce that we have acquired the exclusive distribution rights for Nobel Brand Workholding in North America. Nobel Workholding products complement and extends our range of Kitagawa Workholding solutions for North American customers. Our New Nobel Brand Workholding offering begins at 40" and goes up to 11.5' in diameter.
Covering All Your Oil & Gas Large Workholding Requirements
Our offering includes 3-Jaw and 4-Jaw, Large Through Hole, Manual Chucks and Large Through Hole Power Chucks, Specialized Large VTL Chucks, Face Plates, Boring Mill Jaws and Index Chucks. Many Nobel Oil & Gas Chuck models are currently available, inventoried and in stock at Kitagawa NorthTech headquarters and manufacturing facility in Schaumburg, IL.
31/32 and 41/42 Series Manual Chucks for Oil & Gas
The 31/32 and 41/42 have become the industry standard for Large Diameter Pipe Threading, Large Shaft Turning and other Large Diameter Turning Applications. The 31 Series are Heavy Duty scroll style chucks that feature a 3 jaw, self-centering chuck configuration and are available up to 42". The 41 Series are Heavy Duty, 4 jaw independent chucks popular for out of round and irregular shaped parts. The 41 Series are also available up to 36". Larger sizes are available upon request.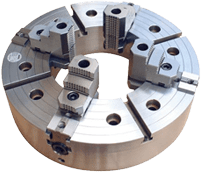 CVH & CVB Series VTL Power Chucks
The VTL Power Chuck Series starts at 40" and goes all the way up to 11.5'. These VTL chucks are for the largest turning applications. Available in standard 3 or 6 jaw self-centering, power chuck configurations, the CVH Series VTL Chucks are the perfect platform for your large turning requirements. Our CVB VTL Chucks combine a 3 jaw power chuck with 4 Boring Mill Jaw for the ultimate in application flexibility for large Workholding projects.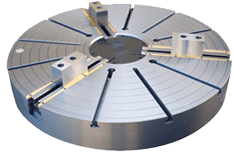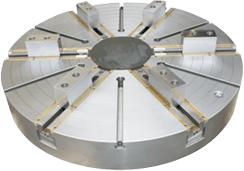 Boring Mill Jaws with 4 or More Jaw Independent Chuck Configuration
Typically used in conjunction with large diameter faceplates, our Boring Mill Jaws are suitable for creating a custom 4 or more jaw independent chuck for large vertical lathes. These large assemblies allow independent radial adjustments and customization to build a Workholding system to meet unique application requirements.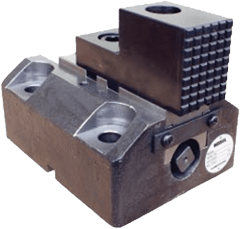 Heavy Duty Workholding Industries & Applications
Any Large Parts Turning Over 40" up to 11.5'
All Oil & Gas Country applications including: Large Diameter Pipe Threading, Couplings, etc.
Large Bearings in Aerospace & Commercial Applications

 

Large Valve Bodies in Hydro power
Large Castings for Wind & Solar Energy