ROTARY CHUCK – NRC SERIES
Kitagawa's NRC Rotary Chuck is an exclusive air-operated chuck with a pneumatic cylinder built in the chuck body. This chuck is easy to fit on even Back motor-type NC rotary table.
DIMENSIONS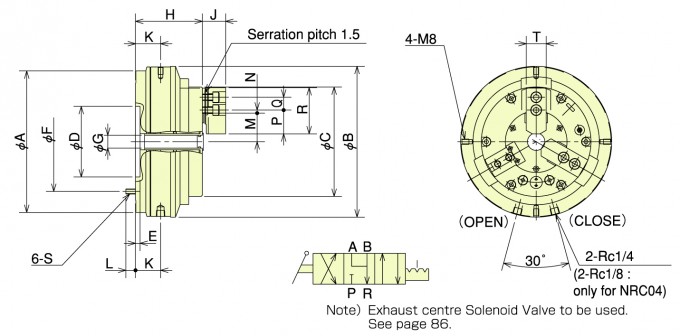 SPECIFICATIONS
 ROTARY CHUCK FITTING DIMENSIONS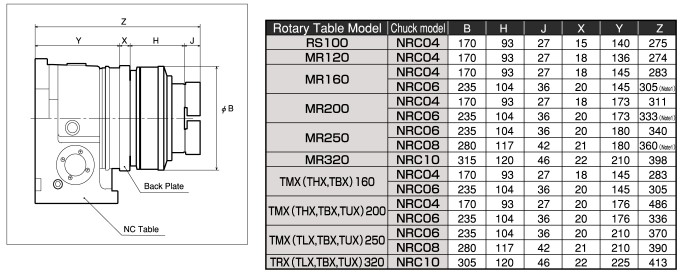 (click on images for larger view)
Model NRC Series Chucks are manufactured from high grade alloy steel. All sliding surfaces are hardened and ground to assure consistent accuracy and performance.
Lubrication nipple in each base jaw.
Master Jaw Serration Chuck size 4″ to 10″: 1.5mm x 60¼
Mounting Mounting supplied as optional adapter plate per applications.
Standard equipment Chuck assembled with soft jaws, T-nuts, jaw mounting bolts and chuck mounting bolts.
Note:
1.  The dimensions above are without stoppers. Consult for fitting positions of stoppers and other separately.
2.  Since clamper may interfere with the chuck by a clamper position, be sure to confer with Kitagawa.
3.  When installing the chuck at a horizontally-installed spec., contact Kitagawa separately.